Posted by Trond Varlid in
Squash Corner
on April 20, 2010 |
no responses
Longest Winning Streak Ever – 555 matches – how did he do it?
Jahangir Khan. The greatest sportsman ever – of any sport?  Well, his record of winning 555 consecutive matches – to mention just one of many exceptional achievements – remains unchallenged by any other athlete to this day.  I had the great fortune to watch him live at the peak of his game – an unforgettable experience…
Dominating international squash for the better part of a decade – during the 1980s into the 90s – it was initially, however, not at all obvious that Jahangir was going to become the greatest squash champion in history.
"I was told I would never become world champion. I was the youngest, smallest, feeblest and sickest of the family. Neither the doctor nor my father believed there was any chance for me to become a good squash player" – says Jahangir Khan in his book 'Winning Squash'.

Having gone from such unpromising beginnings to become the greatest squash player of all time – Jahangir Khan is an inspiration for everyone – whatever their initial circumstances, to go on and achieve great things.
Indeed, to quote Jahangir again: "I believe my story can offer hope to millions of people all over the world who are poor, bereaved or sick.  At different times, I have been all three".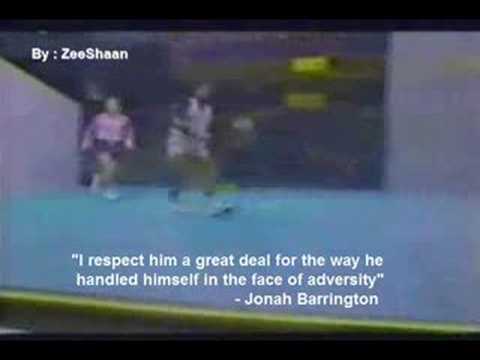 Secret of Success. So how did he do it?  What was his secret?  How could he remain unbeaten for hundreds of successive professional matches, for almost 6 years?
His achievement is particularly remarkable considering some of the main characteristics of squash: high-speed ball (top speeds clocked at around 275 km/h), high-paced game, long rallies – often 100 shots or more – and hardly any breaks between points and games.
This means that there is little margin for error in winning (or losing) points and games – and a 555 match-winning streak should therefore be 'not be possible'.  Unless you are Jahangir Khan, that is…..
His technique was second to none; he could hit winning shots when he needed to and had a great eye for the flow of the game.  All necessary skills to be at the very top of squash.  However, his greatest and most powerful 'weapon' was without doubt his superior fitness – he was simply the fittest person in the sport.  In fact, some even proclaimed him to be 'the fittest man on the planet'….
"Hard work, discipline, commitment and ambition. To be the best, I had to work harder than everyone else.  I trained for 8 hours a day, 6 days a week."  – is how Jahangir himself explains the reasons for his remarkable success.
Training Program. He would typically start his training day with a 9-mile run (14 km), followed by the '400 meter torture test'. The latter consisted of running 400 meters at a fairly high pace, followed by 1-minute breaks – which would be continued until exhaustion.   This was a way to simulate rallies that could last up to 100 shots or more. And there would be endless court sprints and racket drills.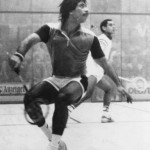 Short Bio: Born in Karachi, Pakistan, on December 10, 1963.  Although physically frail and in poor health as a boy, he was born into a squash family.  His father, Roshan Khan, was a former British Open Champion and his older brother, Torsam, also an accomplished player on the international circuit destined for the top tier.
However, when Jahangir was 15 years old his brother Torsam suffered a heart attack during a match and died.  This proved to be a tragic, but decisive turning point in young Jahangir's life, as he then set out to become world squash champion in honour of his brother's memory.
Check out Wikipedia for further details: http://en.wikipedia.org/wiki/Jahangir_Khan
7 Most Outstanding Achievements of Jahangir Khan.
Won World Amateur Championships at age 15;
Won World Open Championships at age 17; the youngest ever;
Unbeaten for 5 years and 8 months; winning 555 matches consecutively;
British Open Champion10 times in a row (1982-1993); which remains unchallenged;
World Open Champion 6 times – for which he is listed in the Guiness Book of World records;
1st player to win World Open Championships without dropping a game;
Played longest squash match in history (1983) – 2hours, 46 minutes;